Emerging Leadership Program
American Council on Education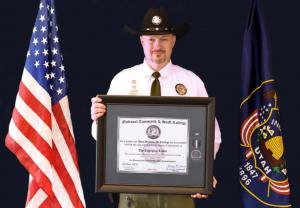 Sgt. Adam Gonzalez, Uintah County Sheriff's Office, UT
Emerging Leadership Program of National Command and Staff College Secures Upper Division Undergraduate College Transfer From American Council on Education (ACE)
The essential building blocks gained from the Emerging Leadership Program strengthens deliberate and inclusive leadership."
— Dr. Anthony H. Normore, President, National Command & Staff College
HOLLY SPRINGS, NC, UNITED STATES, October 19, 2021 /EINPresswire.com/ — Emerging Leadership Program of the National Command and Staff College Secures 6 hrs. of Upper Division Undergraduate College Transfer From American Council on Education (ACE). It is a 5-week self-paced on-line education program.
Your position within public safety makes you a leader in the community you serve and provides you with a position of power and trust. You develop competencies in leadership at your own pace that will allow you to best serve your agency and your community with the cost-effective and self-driven Program.
"For me, the Emerging Leadership Program has helped me to transform and confirm the way I desire to work and the way I desire to live my life." Leadership and Management had been "something that I have wanted to do and wanted to be. " This program contributed to "my personal and professional development by encouraging me to strengthen my integrity, humility, compassion, empathy, and determination so I can make a difference and represent Law Enforcement with honor. Thank you for this training. It has been very encouraging." Brandon Jokinen, Corrections Officer, Isanti County Sheriff's Office/Jail, May 2018
ACE Course Number: IAPS-0002
Organization Course Number: EL-IAPS
Organization: International Academy of Public Safety
Location: Online
Length: Hybrid, 187 hours
Level: Upper-Division Baccalaureate
Credits: 6 Hrs.
Subjects: Organizational Leadership, Public Safety Leadership, and Sociology
ACE Member Universities
Objective Adopted by ACE:
The program objective is to improve the leadership and management skills of law enforcement and military personnel to enhance their performance in delivering results with confidence while reducing risks and liabilities.
Learning Outcomes Adopted by ACE:
Understand the foundation and principles of leadership
Understand the value of teamwork
Learn practical critical thinking
Understand and value decision making
Develop functional knowledge of personal leadership style and strengths
Understand personal potential to enhance leadership capacity
Develop a functional knowledge of how to lead organizational change
Assess and improve leadership climate and agency culture
General Course Topics Adopted by ACE:
Leadership principles
Leadership foundation
Leadership theories
Leadership practices
Leadership application
Leadership advancement
Leadership styles
Self-management skills
Interpersonal communication
Conflict management
Problem-management and opportunity leveraging skills
Team and organization development skills versatility skills
Instructional Strategies:
Audio visual materials
Case studies
Classroom exercise
Computer based training
Discussion
Methods of Assessment:
Examinations
Performance rubrics (checklists)
Presentations
Written papers
Minimum Passing Score: B (80%)
Dr. Mitch Javidi
National Command and Staff College
+1 919-753-1127
info@commandcollege.org
Visit us on social media:
Facebook
Twitter
LinkedIn
Retired Deputy Chief Mark Perez of LAPD describes the Emerging Leadership Program of the National Command & Staff College.